Today, I launched the new registration platform for the Victoria Marie Online Virtual Crops and I am excited to tell you all about it!
Over the past year, I have used a platform called the Mighty Network to host my online scrapbooking crop events. While this platform has some advantages, I learned from the Victoria Marie Designs community that the Mighty Network was difficult to navigate and offered limited payment integrations.
In an effort to streamline my online crop registration process and to offer an easier platform to engage with the online crop content, I have made a couple of changes:
1. New Registration Platform – Eventbrite! I am currently using Eventbrite for my online event registration. This platform is easy to use and offers better payment options, to include PayPal. Also, you can seamlessly register for an event using your desktop or mobile device!
After registering for a Victoria Marie Designs event, you will automatically have access to the event information, links, and downloads via my Eventbrite events page, and this same information will be sent to you in an email.
Additionally, you will have the option to setup notifications through Eventbrite so you will know when I offer future events (online and in-person). Also, Eventbrite will send you reminders about the events you are registered for!
2. All Victoria Marie Online Virtual Crops will be hosted on Facebook! Starting October 2021, all of my online virtual crops will be hosted in a private Facebook Group. All of the crop content, activities, links to Zoom sessions and more will be hosted in the crop Facebook Group.
Upon registration through Eventbrite, you will receive a link to the crop Facebook Group that you will be able to access immediately! No more trying to figure out the Mighty Network platform…I'm all about keeping things as simple as possible!
I hope that these changes will offer a more streamlined experience for our growing community!
And speaking of experiences…registration is now OPEN for the October 2021 Crafty Mysteries Online Virtual Scrapbooking Crop!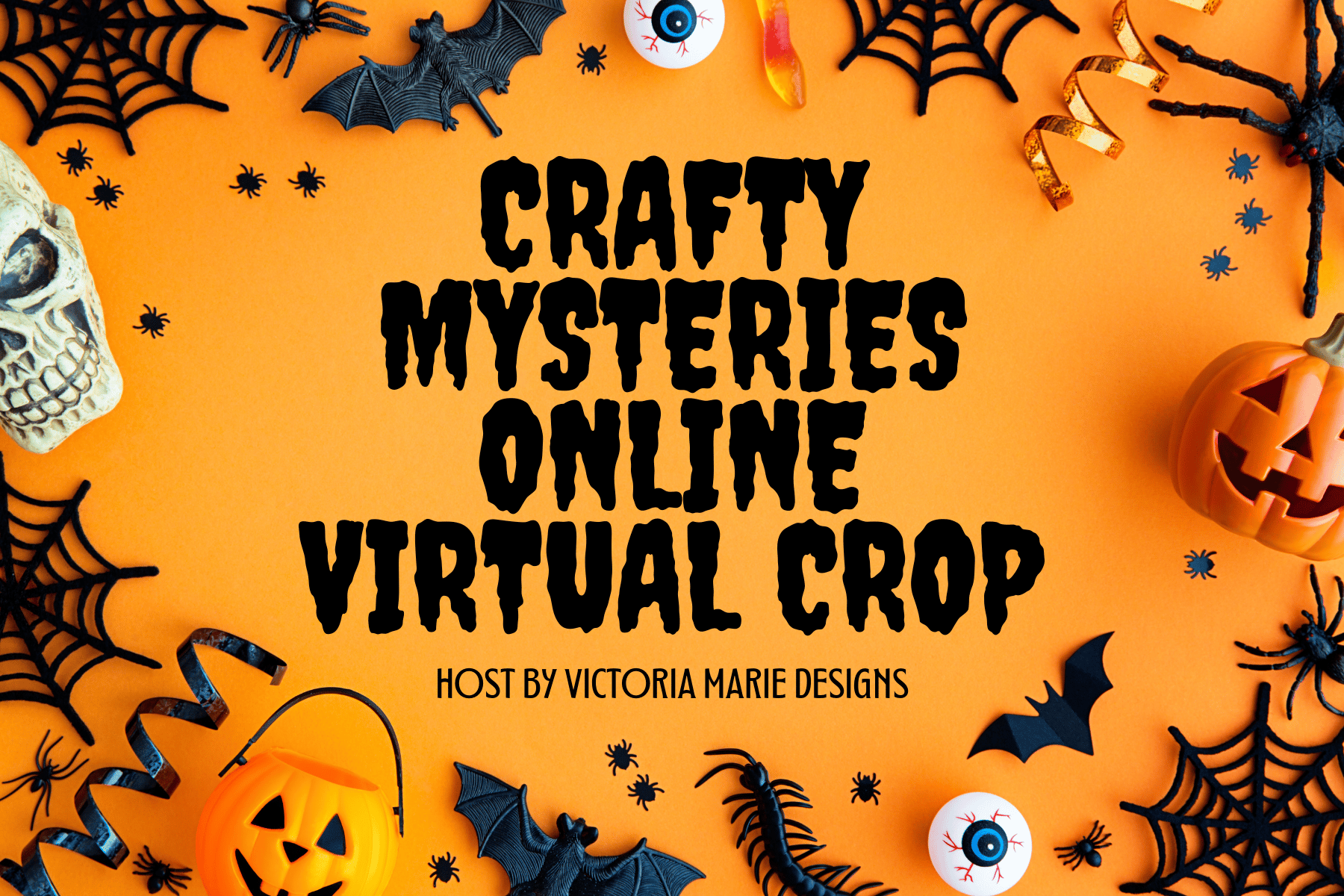 Scrapbook challenges, awesome prizes, and fun giveaways await at the Crafty Mysteries Online Virtual Scrapbooking Crop!
Come join us for a fun weekend of Halloween inspired scrapbook challenges, prizes, giveaways, and Live Zoom Scrap and Chat sessions…all from the comfort of your home!
The Crafty Mysteries Online Virtual Scrapbooking Crop, hosted by Victoria Marie Designs, is a great way to hang out with likeminded scrappers, relax, have fun, and work on a fun scrapbooking projects and challenges.
Date: October 15-17, 2021
Cost: $7.99 USD
Hosted on: Crafty Mysteries Online Virtual Crop Private Facebook Group
Crop Includes:
10 technique-based scrapbooking challenges that will inspire your creativity!
Cool Scrapbook Challenge Prizes
Fun Crafty Mysteries Giveaways – Can you solve the mystery?
Live Zoom Scrap and Chat Sessions, some featuring fun games!
This event is hosted in a Private Facebook Group! All of the crop challenges, giveaways, and links to the Live Zoom Scrap and Chat Sessions are will be available in a private Facebook Group at scheduled times throughout the weekend!
This crop is 100% ONLINE…no need to leave your home! All of the fun takes place in the Crafty Mysteries Online Virtual Crop Facebook Group!
And the best part? You will have 3 weeks to finish the challenges in order to be eligible for prizes! So there is NO RUSH for you to finish the challenges during the crop weekend.
Register TODAY!
For full details and to register for this event, click HERE! I hope to see you there!
Have a great weekend!