Over the years, I have been in many conversations with scrapbookers about the amount of product we purchase – from scrapbooking kits, paper pads, embellishments, tools, devices, and so forth. It feels good to receive a new box of goodies and imagine all of the fantastic projects we can make using our new products and tools!
However, at some point, the time comes when we need to take a hard look at all of the lovely scrappy goodies that we have available to us and to consider ways in which we can begin to use the materials and tools that we currently have on hand to make stunning scrapbook projects.
Think about it…
When was the last time you used materials from your stash to make a scrapbook project?
How often are you pairing your old scrapbooking supplies with your new supplies?
If it has been a while since you have put a serious dent in your scrappy stash, perhaps you need some inspiration and a little creative kick in the tush to motivate you to use your stash!
Why 2022 is the Year to Rock Your Stash!
As you may know, I've been hosting monthly online virtual scrapbooking crops since 2020. These events have been so much fun and a great way for scrapbookers to work on creative projects while engaging with other like-minded scrappers.
In 2022, I am offering a new slate of online virtual crops with one central theme: ROCK YOUR STASH!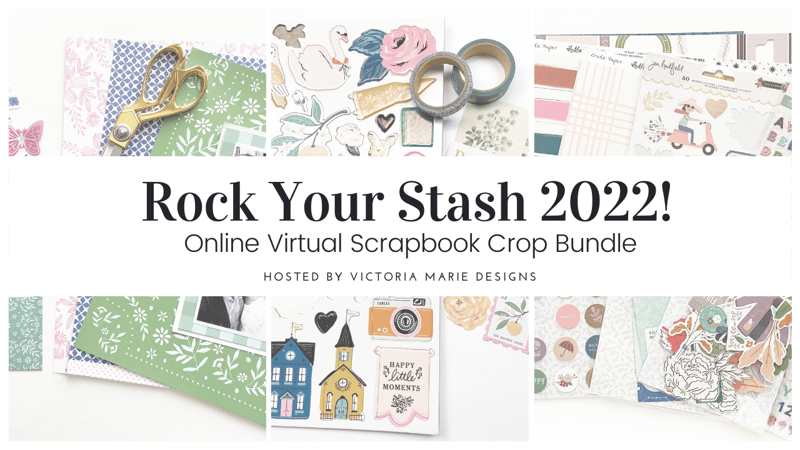 The Rock Your Stash Online Virtual Scrapbook Crops will feature ten (10) online virtual scrapbooking crop sessions, offered January 2022 – May 2022 and July – November 2022.
Each crop session will have a specific theme based on a scrapbook product or tool, all designed to challenge you to use items from your stash.
For example, the January 2022 theme is Pattern Paper and Paper Pads. All of the January crop challenges will be based on using pattern paper and/or paper pads from your stash to create scrapbook projects.
Other monthly themes include: Scrapbooking Kits and Collections, Use Your Tools, Mixed Media, and Stamp It Up…just to name a few!
All of the crop sessions will include:
Fun scrapbooking challenges based on a stash-bashing monthly theme!
Live Zoom Scrap and Chat Sessions – The perfect opportunity to engage with other scrappers while you create!
One 45-minute Live Zoom Mini Class Session – The live mini class sessions will feature creative inspiration and tips for using your scrapbook stash! Each mini class is based on the corresponding monthly theme. For example, January's mini class will focused on tips and tricks for using 6×6 paper pads on a scrapbook layout.
Awesome prizes and giveaways!
The 2022 Rock Your Stash Online Virtual Crops will be a great way to put a dent in your scrapbook stash while making stunning layouts and hanging out with like-minded scrapbookers!
Coming Friday…the Rock Your Stash Online Virtual Crop Bundle!
For 2022, I am offering a limited-time Rock Your Stash Online Virtual Crop Bundle!
This bundle includes access to all ten (10) online virtual crops for a one-time payment of $79.99 USD! This price is based on the 2021 rate of $7.99 USD per crop.
The 2022 rate for individual Rock Your Stash Online Virtual Crops will be $9.99 USD. However, purchasing the limited-time bundle will save you $2.00 per crop!
This bundle will be available starting Friday, November 19th until January 8, 2022! This is a great way to lock in the 2021 rate and save some cash!
Not interested in the bundle? No worries! You can always register for individual Rock Your Stash Online Virtual Crops throughout 2022 at $9.99 USD per crop!
More details to come…
Stay tuned for full details to include the 2022 Rock Your Stash Online Virtual Crop Calendar and registration information!
The limited-time 2022 Rock Your Stash Online Virtual Crop Bundle registration will open on Friday, November 19, 2021 to January 8, 2022.
I am so excited for a new year of online crops and a chance to ROCK OUR STASH!
Stay tuned for more info!